ADHD Psychologist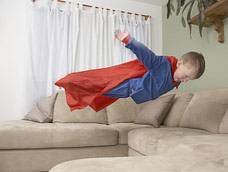 "According to the Center for Disease Control, 3% to 7% of school-aged children have ADHD. Rates of ADHD diagnosis increased an average of 5.5% per year from 2003 to 2007.*"
Children with ADHD exhibit a number of symptoms, including difficulty paying attention, hyperactivity, and forgetfulness. Their behavior often deviates from social norms and expectations so they appear to be wild or out of control. Parents, siblings, extended family, educators, and peers are affected by stress and frustration.
Many people don't realize it, but ADHD can be successfully managed. Through therapy, children can learn to modify their behavior, effectively minimizing the symptoms and setbacks that are caused by ADHD. However, there is no one-treatment-fits-all model. The most effective treatment plans are fully personalized and closely monitored, with modifications made on an as-needed basis.
As an ADHD psychologist, my job is to help children modify their behavior so they can live more comfortably. I help children become more aware of internal and external stress and teach them strategies for dealing with and managing stress and difficult emotional events and experiences. I also teach them to monitor their own actions. I also offer practical assistance with everyday tasks, such as getting organized or completing schoolwork.
Managing ADHD Through Cooperative Coordination
My philosophy emphasizes coordination, ensuring that children and their families as well as caregivers, including therapists, psychiatrists and teachers, are all knowledgeable about what the others are doing. My work as an ADHD psychologist includes consultations for parents and educators where I act as coordinator and offer practical guidance.
ADHD therapy starts with an evaluation of your child's condition to ensure a correct diagnosis. Then I will work with you, the parents, to develop a treatment plan. From there, I consult with other providers, attend team meetings, evaluate progress, and help to ensure prompt, effective communication with everyone involved.
My approach has two clear benefits: my first priority is helping your child deal effectively with ADHD; second, I work with key individuals in your child's life to ensure that he or she is getting consistent guidance and structure. As an ADHD psychologist, my primary role is to help children overcome ADHD-related obstacles, but my work also minimizes stress and frustration for parents and families.
Free Initial Consultation
To schedule a free initial consultation with ADHD psychologist Dr. Kenneth Roberson, please call 415-922-1122 or email info@kennethrobersonphd.com.
*From the Center for Disease Control (source).